On Monday 22nd January there was an award ceremony for Year 9 pupils to celebrate successes in the Christmas tests and ARP2 analysis.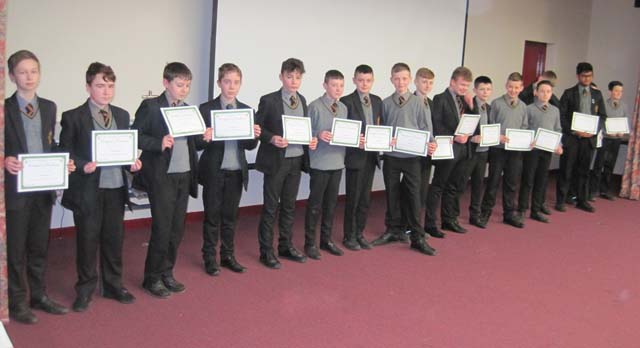 The names of all the pupils who passed all subjects were read out by the Year Head. The top performing student in each class was presented with a certificate by The Pastoral V.P. Mrs F. Crookes. The names of the pupils receiving an award are:
Oisin Mc Ewan 9A
DJ Irwin 9B
Dillon Mc Cann 9C
Kyle Gallagher 9D
Fiontan Mac Giolla Cheara 9E
Ciaran Dempsey 9F
Ibrahim Abdullah 9G
The award for overall best performance in Year 9 was awarded to;
Dillon Mc Cann 9C
Recognition was also given to those pupils within the Year group who had achieved 100% attendance in the first term. These boys were presented with a certificate by the Head of School, Mrs M. Lewis.