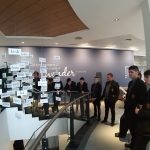 Language empowers.
It is important that we provide the requisite skills and prowess in language so that pupils have the competence and confidence to express and interpret information easily and effectively.
Language is fundamental to our understanding of ourselves as individuals and of our relationship with others. Within the framework of the general School Aims, the English department seeks to provide an environment which facilitates the development of the pupil to his/her full potential: enabling pupils to contribute in a positive and mature manner to society; making each individual aware of and appreciative of human diversity; developing an understanding and tolerance of individual needs, attitudes and beliefs; making pupils aware of the power, complexity, versatility and sensitivity of the English language through their experiences of language in the classroom; promoting a questioning and compassionate attitude which will challenge stereotyping by gender, role, race or religion.
Teaching Staff
Course Outline
Year 8 pupils will be given opportunities to undertake a number of different tasks and to experience a wide variety of texts during their first year at St Mary's. Emphasis will be placed on developing pupils' confidence and making the subject stimulating and enjoyable. Emphasis will be placed on ensuring that the pupils' transition from primary school to St Mary's is as smooth as possible.
Accordingly, pupils will have the opportunity to develop their literacy skills. One period each week focuses primarily on building upon and extending pupils' literacy skills.
Every month a different literacy target will be addressed, pupils will be given the opportunity to discuss and reflect upon: their early childhood, home and family, friends, primary school and their experiences to the present day. A range of stimuli will be provided through poetry, drama and prose. Roald Dahl's Boy will be the set text for Term 1.
Pupils will be asked to complete a self-assessment form, identifying what they feel they have done well and areas for improvement, at the end of each term/unit of work. A teacher comment will be added and a parental signature is required.
Year 9 and Year 10
Throughout Key Stage 3 pupils are building all the necessary skills to excel in communication. Each year, they will study a novel that will provide them with the opportunity to explore and enjoy a range of literature. Pupils are encouraged to engage in class discussion and debate regarding issues that arise through what they read. In Years 9 and 10, pupils will study the following:
Year 9
Creative Writing
Place Poetry
Spoken Language – accent and dialect
Persuasive Writing
Shakespeare – Romeo and Juliet
Year 10
Literature of The Troubles (poetry, prose and drama)
Pre-20th Century Prose
Writing for Purpose and Audience
Reading Non-fiction
Reading Media Texts
Assessment
Tasks and assessments will be based on the three attainment targets: Speaking and Listening, Reading and Writing. Pupils will be given opportunities to develop the key skills highlighted in the Curriculum:
Managing Information
Thinking, problem solving, decision making
Being creative
Working with others
Self-management.
Study/Homework Requirements:
Pupils will be expected to:
Complete at least one written homework per week
Complete reading which may be given ONCE a week (parents should check homework diary and sign as indicated)
Ensure a peaceful, suitable place is provided for the completion of homework.
Key Points To Success:
In order to succeed pupils should:
Come to class ready and prepared for effective learning
Ensure that all homework is planned, drafted and presented to an acceptable standard
Ensure that their parents/guardians sign and check all homework
Ensure that the success criteria is utilised as a guideline for success
Ask teachers for help and guidance if in doubt!
---
---
All Departments