The Computing Department aims to encourage students to become independent and discerning users of Digital Technology who can make informed decisions about its use and are aware of its implications for individuals, organisations and society.
Teaching Staff
Course Outline
Digital Technology GCSE
Aims
Students should be able to:
become independent and discerning users of digital technology;
acquire and apply knowledge and understanding of digital technology in a range of contexts;
acquire creative and technical digital technology skills and apply these in a range of contexts;
develop and evaluate digital technology-based solutions to solve problems;
develop their understanding of current and emerging technologies and the social and commercial impact of these technologies;
develop their understanding of the legal, social, economic, ethical and environmental impact of digital technology;
recognise potential risks when using digital technology and develop safe, secure and responsible practice; and
develop the skills needed to work collaboratively
Year 11 Topics
Unit 1: Digital Technology (All Students)
In this unit, students explore a range of digital technologies available for data storage, manipulation, presentation and transfer. They also evaluate the importance of data security and data legislation.
Year 12 Topics
Route A: Multimedia
Unit 2: Digital Authoring Concepts
In this unit, students gain an understanding of the concepts in the development of digital systems. They enhance the knowledge and skills developed in Unit 1
Unit 3: Digital Authoring Practice
In this unit, students design, develop and test digital multimedia systems.
Route B: Programming
Unit 4: Digital Development Concepts
In this unit, students analyse trends in software development and the concepts involved in designing and building digital systems using coded solutions.
Unit 5: Digital Development Practice.
In this unit, students design, develop and test coded solutions when creating digital systems. Students must use one of the following languages in their completed solution: Python, Java or C#.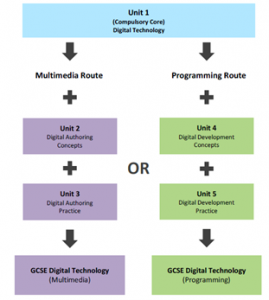 Assessment
How Will I Be Assessed?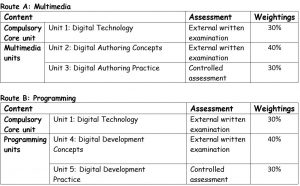 Students must take at least 40 percent of the assessment (based on unit weightings) at the end of the course as terminal assessment.
Study/Homework Requirements:
Study/Homework Requirements:
Most coursework will be done in class time with a lot of research work being carried out at home;
Generally, there will be one homework a week not necessarily written;
Use of internet and newspapers to research new developments.
Key Points To Success:
Key Points to Success:
Keeping to all deadlines;
Reading and watching for changes in ICT;
Asking questions;
A computer at home is helpful but not essential.
Progression Routes after the course
A Level Digital Technology or Computing
Computing Degrees
Career in: Engineering/Games Development/Programming/Systems Analyst and Software Engineering.
Skills learnt are transferable to most jobs.
---
All Departments