The School Community – working in partnership
Staff
St. Mary's has very clear and effective staffing structures:
• The Principal
• Vice Principal (Pastoral) and the Vice Principal (Curriculum)
• Senior Leadership Team (Heads of School for KS3, KS4 and KS5, SENCo)
• Year Heads and Heads of Departments
• Form Teachers
• Subject Teachers
Our administrative and ancillary staff complete our school community.
• Year Heads and Form Teachers work closely to ensure the pastoral welfare of the pupils, and liaise with the relevant Head of School.
Heads of Departments are responsible for the teaching and learning in their departments.
• All teachers are responsible for the pastoral and academic growth of the pupils.
Child Safeguarding is a key priority for all staff.
Form Classes
All pupils are placed in form classes.
The form teacher:
• Meets with the form class each morning
• Monitors the well-being of each pupil in the form class
• Supports and encourages each pupil to achieve his academic potential
• Monitors behaviour and attendance
• Explores the school's pastoral programme during the weekly form period.
Each Year Group has an assembly once per week which is taken by the Year Head.
Whole year group assemblies
Monday: Year 8 Assembly Hall Year 13 ERLT
Tuesday: Year 9 Assembly Hall Year 14 ERLT
Wednesday: Year 10 Assembly Hall
Thursday: Year 11 Assembly Hall
Friday: Year 12 Assembly Hall
Detention is held on:
Tuesday 3.15 – 4.30pm
Friday 3.15 – 4.00pm
Missed Detention
If a pupil misses a detention it will be re-scheduled once.
If a pupil refuses to complete a detention, his parents/guardian will be contacted. Further failure to complete the detention will result in suspension if the detention is compliant with the school's disciplinary code.
Sanctions for poor punctuality:
The count will be accumulative and not reset to zero at the beginning of each calendar month.
3 lates – Detention
6 lates – 2 DTs
9 lates – Staff Day or Saturday detention and parental interview with Year Head and Head of School
12 lates – suspension
Breakfast Club
we have our breakfast club on offer each morning in school. This is available between the times of 8.10am and 8.45am a breakfast meal deal for the cost of £1.00.
The menu for the Breakfast club is as follows:
1 Cereal – Weetabix or Cornflakes
1 Glass of pure orange
Scrambled eggs
2 Slices of toast
1 Cup of tea.
As you will be aware break time is now scheduled at the later time 11.10am this year. It is therefore imperative that your son has a substantial meal at the start of the day so that he can engage fully in the classroom. We would encourage you to ensure that your son avails of a proper breakfast at home or what we have on offer in school at our Breakfast Club.
Break and lunch arrangements
 Break is from 11.10-11.25am.
 Years 11 and 12 pupils should go to the Year 11/12 area beside Mrs Crookes' office for break.
 Lunch times:
 First lunch is during period 6, 12.45-1.25pm.
 Years 8, 10 and 12 are on first lunch.
 Second lunch is during period 7, 1.25-2.05pm.
 Years 9, 11, 13 and 14 are on second lunch.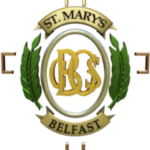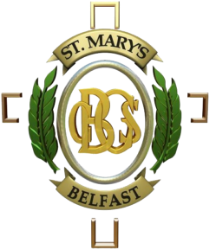 Extra-curricular
At St Mary's we have a proud tradition of successful participation in a range of extra-curricular activities and encouraging the students to become rounded individuals.
From Year 8 pupils are encouraged to get involved in all aspects of school life, and we have a wide range of activities available for all interests.
There are many other activities throughout the school year which encourage the involvement of the school community, such as Trócaire collections and the Catholic Caring project at Christmas time.
There are a number of subject specific trips undertaken throughout the Key Stages to help make learning fun. Extended school trips are very popular with pupils.
There are Ski trips, Art Trips, French, Spanish and History trips. Every summer the Irish department organises trips to the Gaeltacht for many of our pupils.
Home Liaison
As a school, we recognise the importance of developing strong partnerships with the parents/guardians of our pupils as we work together to support pupils' learning and involvement in school life. We aim to engage parents through:
• Annual Parent-Teacher meetings;
• Induction meetings at key transition points in your son's school journey (Years 8, 11,12, 13);
• Year 10 Options meeting for parents;
• Year 12 Options meeting for parents;
• Year 14 UCAS meeting for parents;
• Year 8 Family BBQ;
• Study skills meetings for parents;
• Home/School Agreement;
• The use of the text message system;
• Year 8 Graduation;
• School website, Facebook page and Twitter.
Downloads/PDFs