Mobile Phones (Including Smart Watches)
Whether we agree or not, young people today view their mobile phones/smart watches as essential. Teach your son about the importance of thinking carefully about how he uses his phone. While in school, such devices, along with smart watches are not allowed to be used.
Should a pupil be seen with a mobile phone, smart watch, MP3 Player or IPOD, he will have it confiscated immediately.
The phone/device can only be collected by a parent or other responsible adult after 3.15pm the next school day.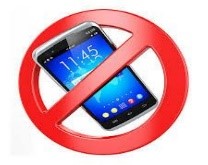 Please impress on your son the need to adhere to the school's policy on mobile phones.
Should either you or your son need to contact each other during the school day, this should be done via the school office.
Pupils must never take any photos/videos/audio recordings either in school or on school transport.
Monitor your son's use of social media and text messages.
Teach him to be mindful of what he says online and the photos he might post. Young people often do not think before they click send. Your son needs to remember that once something is posted, someone else can forward that text or image.
Familiarise yourself with the social media apps your son might be using. Many of the popular ones have an age restriction of 13.
Agree a time at night for putting away all phones and electronic devices and remove these from bedrooms.