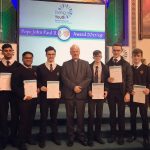 The academic and catechetical programme of Religious Education in St. Mary's incorporates a vast array of opportunities for students to develop spiritually and morally. With an emphasis on faith development, this involves supporting students in the process of recognising, articulating and reflecting on the experience of God in their lives by living out the ERST charter.
There are numerous opportunities for such faith development in St. Mary's through the variety of extra-curricular activities offered and supported by the department, including: the Pope John Paul II Awards; St. Vincent de Paul Society; Catholics Caring; and Project Zambia. There are also retreats for Year 8, 11 and 13 students to mark their transition between Key Stages.
"Christ is the foundation of the whole education enterprise in a Catholic School"

The Catholic School, Rome, 1977
Teaching Staff
Click image to enlarge
Course Outline
Key Stage 3 students follow the Fully Alive Irish Catechetical Programme as published by Veritas, especially commissioned to suit the needs of the Revised Curriculum and in tandem with Diocesan guidelines. This resource is supplemented by the RE Department with units of work deemed appropriate to our school ethos such as the Edmund Rice unit of work for Year 8 students.
The programme offers our students the opportunity to develop their understanding of the Trinity, sacred scriptures, the sacraments and Church Tradition. By the end of Year 10, pupils will have also enjoyed learning about the beliefs and practices of other Christian denominations and some of the major world religions such as Judaism and Islam.
---
Religious Studies Related News
---
All Departments