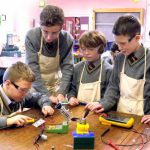 The subject encourages pupils to be inspired, moved and challenged by following a broad, coherent, satisfying and worthwhile course of study. Pupils have an opportunity to demonstrate their ability to design and manufacture products under controlled conditions, allowing them to gain an insight into related sectors such as manufacturing and engineering.
Teaching Staff
Course Outline
The focus of Year 8 study will be Design. Pupils will undertake a number of Design based tasks formulated to improve their understanding of the world of Design. Pupils will also undertake three design and make workshop activities.
Assessment
Each pupil will undertake three assessments, one per term. Class assessments will also be undertaken on a regular basis.
Coursework
Pupils will produce three major pieces of coursework supplemented by research-based tasks throughout Terms One, Two and Three.
Study/Homework Requirements:
Pupils will be required to undertake one homework a month. This work will take the form of written, research or design work and will generally require 30-40 minutes to complete.
Key Points To Success:
Completion of all coursework and tasks to a high standard.
A high level of motivation and commitment.
A consistent effort in all aspects of the subject.
---
---
All Departments