The Tracey Family Award!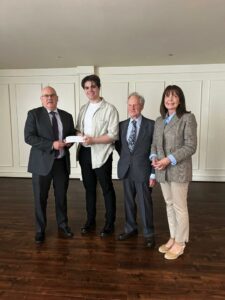 The 'Tracey Family Award' for the top Physics A level student this year has been awarded to Paul Cunningham! Paul achieved an A* in Physics. He received a generous Bursary of £1000 which will be a great help as he embarks on his Physics course in Queens University Belfast.
This is a well deserved award for Paul who is described by his former Physics teacher Mr McCann as 'an excellent pupil……who will be an amazing addition to his university as he takes on his degree challenge!'
High praise for a top student and a great example for those Physics students following behind him.
A massive thank you to the Tracey Family for their generosity. The Bursary is awarded by Colm Tracey who hails from Waterford but his father Dan Tracey taught in St Marys for a significant number of Years across both the old Barrack Street and Glen Road sites. It is great to see the Tracey family continuing to have a positive impact on the students of St Marys!
Well done Paul and good luck with everything that your future holds!!
Mr Kelly
Head of Science